As a self-proclaimed tech junkie, I'm always interested in the ways that brands use tech to engage with users, followers and fans. When I heard about Knorr's new "Eat Your Feed" (EYF) tool, I had to check it out for myself. Essentially, Knorr's AI-powered tool asks a user to connect via their instagram account, then analyzes your instagram feed to serve up recipe recommendations. Cool, right? Well… in theory, yes. In practice, there are a few kinks left to work out.
How does it work?
From a user perspective, it's a little mysterious, but there are some clues as to how the algorithm recommends recipes. After taking a look at my own results, some things became clear and others became more confusing.
First, how is the tool selecting which images to work with? I'm not an instagram fanatic, but I do use the platform to share photos from vacations and special moments. Most abundantly, however, I use it to share photos of my cat, Serena. EYF didn't have much to say about the cat pictures dominating my feed, and seemed to focus instead on location and travel based images. This makes sense, because I don't want to eat kibble.
The 5 pictures selected were varied, but all had between 20 and 40 likes and around 10 hashtags. This leads me to believe that the algorithm, while analyzing images in and of themselves, is still relying heavily on tags to form its recommendations.
The Quiz
Users are also invited to also participate in a 5 question quiz that reveals a little more about what the algorithm seeks. Not surprisingly, the first question asks about favorite travel destinations, refining the recipe database geographically. The questions illuminate some of the logic that is used to form recommendations. But I'm still left wondering whether these are the right questions to ask in order to recommend recipes.
How active are you?

I'm curious as to whether the tool will recommend higher calorie meals to people who are more active. It's also entirely possible that the whole EYF tool is just a ruse to better understand the target audience's lifestyles and habits (more on this later).

How do you spend your free time?

No matter how you responded to question #2, the options available  are "Netflix & Crisps", "A few drinks out always do the trick" (what are you trying to say, Knorr?), "Relax, Yoga & Meditation", or "Nothing better than a walk in nature". I'm not sure we really covered the whole spectrum there, but ok.

Who are you eating with? Possible responses range from alone to a large family.
Skills in the kitchen? Ranging from "I know where the forks are" to "Master Chef," this seems like one of the more relevant questions on the list.
The Results
Knorr's promise to "discover my new favorite recipes" delivered the following results based on my instagram feed…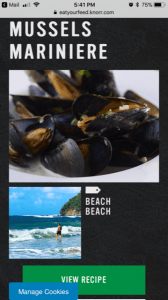 Mussels Mariniere at the Beach
Capturing the hashtag #beach and possibly recognizing the image as an ocean, EYF served up a recipe for Mussels Mariniere – which is actually something I'd make. I love mussels, and while this picture of my husband wading in the sea doesn't necessarily make me crave mussels, I can see and respect the correlation.
Jerk Beef in the Caribbean
Cued by #Caribbean, the next recipe is another relative winner. Spicy jerk beef one pot? Sure, I'd try it. Reminding me of trips to the caribbean and enjoying jerk chicken at seaside digs, this is definitely a recipe that hits home even though it doesn't have much to do with the gorgeous sunset I instagrammed on my last trip.
Beef Stew with your Cat
Ok, this is where things start to get a little weird. Hashtags #Love and #BFF on this morning photo of my cat and I called up a recipe for beef stew? While I don't doubt that many cats might enjoy having beef stew served up for breakfast, I'm very confused by the connections that were made in order to recommend this recipe. Is Knorr suggesting that I enjoy this recipe with my cat? If so…kudos, Knorr. Cats must love you.

Tortilla Soup South of the Border
And then things get weirder. I didn't take this photo. At first, I thought I did because it is eerily similar to an actual shot from my instagram feed. When I went back to check hashtags, I realized it's not my photo and this algorithm might deserve more credit than I thought. I had a few similar photos that used the tag #VivaMexico, and perhaps through an amalgamation of the regions highlighted in my feed I got this recommendation to "get a taste of South America" with Mexican Veggie Tortilla Soup. We'll gloss over the fact that Mexico is in North America and chalk this one up as a win, mostly because I'd actually make this.
Chicken Soup and Ziggy Stardust
Ready for the weirdest recommendation? Nothing goes together quite like champagne, David Bowie, and… chicken and pasta soup??? After gaining faith in the EYF tool after the tortilla soup recommendation, this one left me baffled. The only clue they offered up was the location: United States. When I took this photo, I did tag the location but also included a number of hashtags that for all intensive purposes should have steered the algorithm away from chicken soup.
Limitations
There's something a little depressing about reducing an epic night with friends down to a recipe for chicken soup, but the biggest question I walked away with was "what's the goal?" Does a person's instagram feed actually translate into what they would like to eat? From a basic level, I seem to be missing what Knorr hoped users would gain from the experience. If it's intended to help answer the age-old question of "what should I make for dinner?" I think it's missing the mark – for now, at least.
It seems more likely to me that the EYF tool is an effort to help Knorr more fully understand a younger demographic and how best to appeal to them. Knowing more about the lifestyle choices of their target consumer (what they do in their free time, etc) will help them more effectively engage with them. In the couple weeks since I completed the EYF analysis, I haven't been on the receiving end of any broader marketing campaigns from them. But perhaps it is still to early to see how they'll use the information they're gathering.
From a technology standpoint, there's a lot the brand can do to improve the experience. Upon navigating to the EYF tool, I was asked to accept cookies about 6 times before I could connect via instagram or take the quiz. The quiz itself isn't optimized for mobile and felt a little glitchy. Overall it feels like a beta release, with some bugs to work out if it's to become something more engaging.
The Possibilities
Even with its limitations, EYF is fun in a "waste time on the internet" kind of way. The image learning aspect, however, is actually interesting. The combination of images and their tags could become a lot more useful if they were connected with flavors or flavor profiles. For example, I have an instagram feed with a fair amount of food and drink pictures. What if the EYF tool could identify those food and drink items, connect them to flavor tags, and use an combination of those tags to create recipe recommendations?
I have to imagine that the vast majority of internet recipe searches start with "What should I make to eat?" and while Knorr's tool isn't answering that question right now, it could be laying out the building blocks for a tool that does.